Relax ☆ Restore ☆ Revive
Targets puffiness & dark circles, tiredness & redness, premature ageing
Your 5 minutes of bliss
Within five pampering minutes, eyeSlices® offers an escape from the busyness and demands of the day, to help you recharge and renew yourself. A complete well-being encounter that refreshes with every tingling sensation.

The rhythms of time
Whether you are sitting or reclining, eyeSlices® can be applied anywhere, anytime. Place over the eyes for five minutes, and feel the relaxation seeping into your every pore.

Naturally therapeutic
Take a moment to discover pure indulgence with a revolutionary and rejuvenating, award winning, eye treatment. Encapsulated in a patented hydrogel technology, eyeslices delivers natural, yet effective ingredients to the eye surrounds, which promises revitalizing results within minutes.

Freshly formulated
Aloe Ferox, nature's best kept secret, is a key ingredient that unlocks the soothing, calming and restorative properties, while a synergistic blend of active ingredient complexes, has clinically proven results on puffiness, dark circles and fine lines.



Eye opening technology
Developed with passion over ten years of research and development, the eyeSlices® technology delivers real results and really works! The products not only target specific symptoms effectively, but also give you "me-time" and pampering benefits that help you de-stress.

The technology is termed "Cryogel", which means "to freeze". This is the only stable based hydrogel globally, is manufactured through a non-toxic, physical process of freezing and thawing.

You will find it refreshing to use, soothing to the eye area, and relaxing. It is pretty certain that when you first try eyeSlices® you will fall asleep with them on. This is not a problem since the products are proven safe to use.

You only need 5 minutes to use eyeSlices® in order to see and feel the difference. So why not be a part of the journey to help you relax, restore and revive your eyes, so that you can enjoy your life in style!

eyeSlices® is a global first in Cryogel polymer technology. This technologically advanced dermal delivery eye treatment pad is patented & unique!

eyeSlices® is the only stable water-based hydrogel in the world. The dermal delivery system encapsulates and releases active ingredients into the skin. It provides an instant cooling sensation without a fridge! Soothing and comfortable to use, the thermo-gymnastics effect stimulates micro-circulation.


Why eyeSlices®
The award-winning, patented technology delivers natural, yet effective ingredients to the eye surrounds within minutes. This revitalizing, unique, quick-fix solution provides an instant cooling sensation without a fridge!

Ethical Formulations
eyeSlices® contains 20% active ingredients in all formulations. These natural and certified active ingredients are sourced from France, USA and Switzerland. The products contain no preservatives and, yet, have effective stability and a two-year shelf life. Great results can be seen within minutes of use and the products are safe and non-toxic for all skin types, pregnant ladies, and those with contact lenses.

Clinically Tested Ingredients

Bright eyes: Sambucus Nigra, Black Elder, Suima Root, Muira Puama Bark & White Lilly Extracts, Aloe Ferox
Gorgeous eyes: Plantago Lanceolata, Oka Apple & English Ribwort Pantain extracts, Aloe Ferox
Clear Eyes: Marrubium Vulgare and Aloe Ferox
Beautiful eyes: Scutellaria Alpina & Polysachharides from Apple, Aloe Ferox
Professional: Aloe Ferox, Protein Peptides, Hexapeptide Complexes, Live Yeast Lysate Extract, D-Glucose extract

Award Winning Company
After more than ten years of research and development, the products are developed and made in a GMP manufacturing facility in South Africa With international patents, design registrations and trade marks the products are exported worldwide and are EU & FDA compliant. Both the company and the products have won a number of awards.





For Spas, Professional Healthcare Specialists & Salons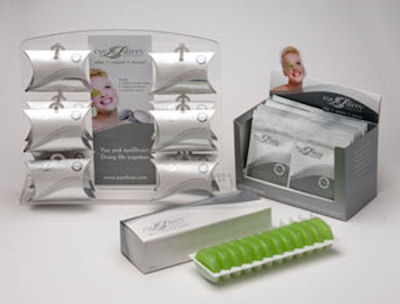 Just a few testimonials
Dee Disney - I have now made this a morning ritual before I even have my tea!
Well I purchased the salon type wondering if they really work. The next morning I got them out as I had just looked into the mirror and was not pleased with what I saw, so laid down and put them on my eyes for ten minutes. Well I don't really know what I was expecting as I was a little skeptical but after I took them off and checked my eyes, I was delighted as the redness had gone as well as the puffiness and the bags under my eyes were definitely better. When you put them on your eyes you can actually feel something seeping into your lids. I actually can read my Bible without my glasses whereas before my eyes we not up to it. I have now made this a morning ritual before I even have my tea!

Elizabeth Judy - They are very, very soothing after a long day of work
I do like your product, very much as a matter of fact. When kept in the refrigerator (in their case), they last quite a long time, and are very, very soothing after a long day of work, or even for a few minutes in the morning to reduce swelling and get me going.

Deanna Winterbourn - Terrific after eye surgery
Dear Sir/Madam. I recently had surgery done on my right eye, and it is still puffy after eight weeks. A friend of mine gave me a packet of eye slices to try, they were terrific. She bought them in the airport at Dubai. Could you tell me if they are available anywhere in Australia, if not, can I buy them direct from you and the cost of them plus postage. Thank you very much.

Denny Newcombe - Cheers to a remarkable product
Dear Kerryne, I met you at "The Womens Show" last month. You very kindly explained how Eyeslices work and gave me a sample to try. All I can say is a very big WOW!!! They are absolutely incredible. The very next week I was in the Far East on holiday and all in all flew 7 different legs. I really did need Eyeslices on that trip and even more so when I returned to SA and the resultant jetlag. Cheers to a remarkable product


Advertising & Publicity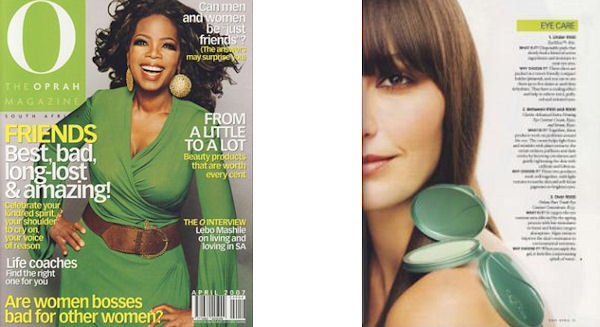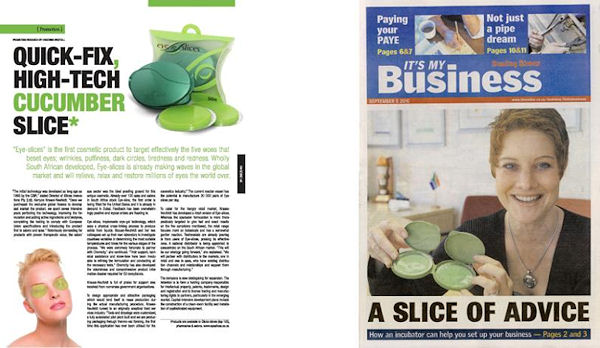 Exhibitions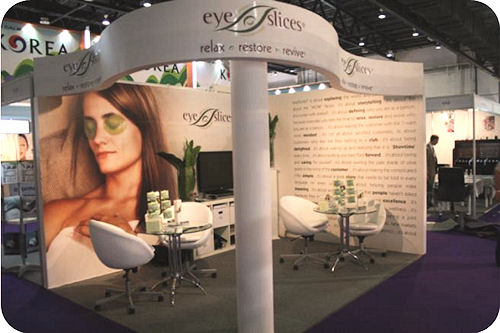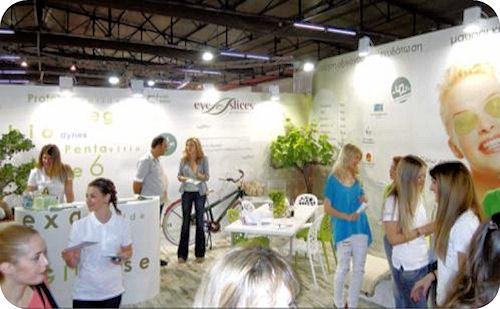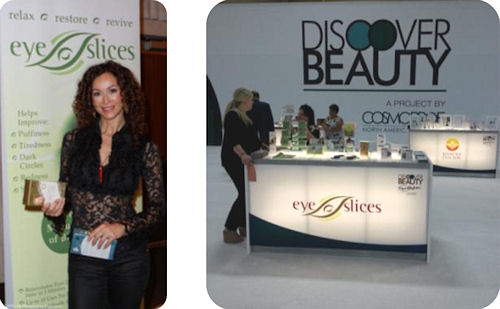 Promotions